Choosing the right network switch
A network switch (or Ethernet switch) is a communication device that is used to distribute data over cable networks. It usually comes in the form of a box with several Ethernet or fiber optic ports. It should not be confused with a hub even though they look very similar. Industrial network switches are designed to be used in extreme environments.
View network switches
Do you need a managed, unmanaged or intelligent network switch?
You can choose an unmanaged switch if your network is not very complex and you can leave all ports open without having to isolate any of them. If you only need to connect a few devices to each other and connect them to the Internet these network switches can be a good choice because of their low purchase price. This type of network switch is usually plug-and-play, i.e. you just need to connect it to make it operational.
If you don't know how your network is going to evolve later, you can also choose a managed network switch and leave the default configuration. This configuration can be interesting because it eliminates the need to rebuild the network if it evolves later, as managed network switches allow you to manage and modify your network remotely according to your needs. This type of network switch is good for managing a complex network, but it requires the skills of a network engineer to monitor port security, access control lists (ACLs) and bandwidth allocation. Some network switches are equipped with an API (Application Programming Interface), which makes it possible to do IaC (infrastructure as code).
If you want to keep control of your network, but it remains relatively uncomplicated, you can also choose a smart switch which is partially manageable through an online interface. These network switches are a good compromise between an unmanaged switch and a managed switch. Depending on the model you choose, you might have access to options such as quality of service (QoS) or virtual networks (VLANs) that are good for managing VoIP phones, or if you want to be able to isolate parts of the network from each other to improve network security and performance.
Why choose a PoE network switch?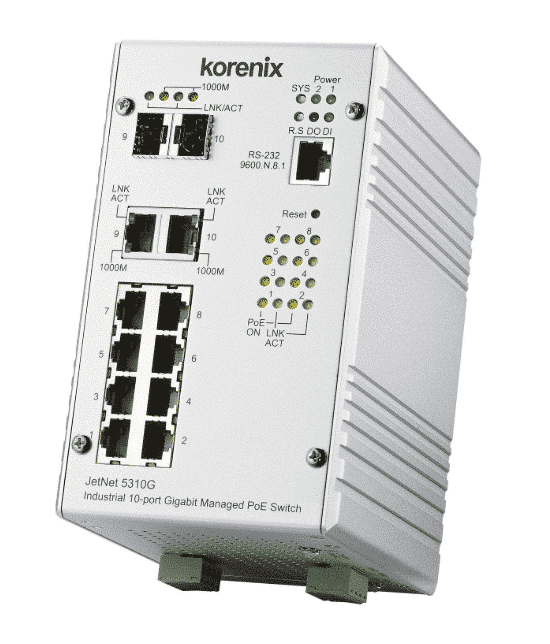 A PoE (Power over Ethernet) network switch allows connected devices, such as IP cameras or VoIP phones, to be electrically powered via RJ45 Ethernet cables. With this type of network switch, wiring is simplified and you do not need to call on an electrician to set up the power supply for your equipment. Additionally, if the network switch is connected to an inverter, you won't have to worry about power outages.
If you choose this type of network switch, you must know the power consumption of each of the devices so that the network switch offers enough electrical power, called the PoE budget, at least equal to the sum of the power consumed by all the devices.
You will also need to consider the cooling requirements of the network switch to avoid service interruptions due to excessive heating.
The distance between the network switch and the devices is also important: the maximum distance between two devices is 100 meters. PoE switches are subject to two standards that ensure equipment compatibility between different brands:
The 802.3af standard allows a maximum power of 12.9 watts, with a voltage of 48 volts for each device.
The 802.3af standard allows a maximum power of 30 watts, with a voltage of 48 volts for each device.
Main points:
no need to supply power to each network component

requires cooling
maximum distance between 2 pieces of equipment = 100 m
What type of network should be used for which applications?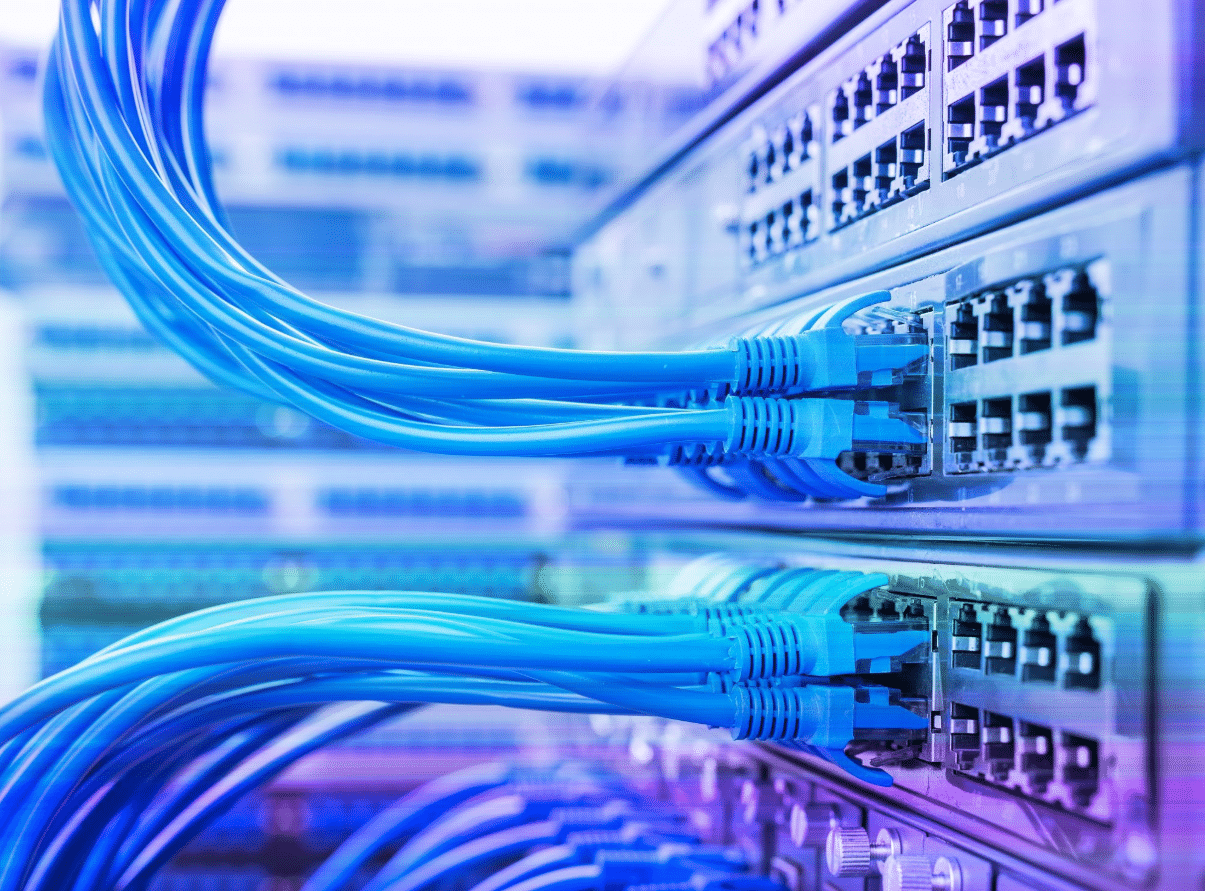 Ethernet networks use transfer speeds that can be different depending on the requirements:
Networks of 10 Mbps (megabits per second) are generally used for email and intranet networks. The equipment is wired on RJ45 sockets.
Networks of 100 Mbps (called Fast Ethernet) are designed for small file transfers (up to 150 MB per file). The equipment is wired on RJ45 sockets.
Networks of 1,000 Mbps (Gigabit Ethernet) are used for large files such as video files (more than 150 MB per file). The equipment is wired on RJ45 sockets.
Networks of 10 Gb/s (10GBASE-T) are the current standard for the installation of new corporate networks.
For very large data transfers or long distances between different devices, you might want to look into fiber optic transfer technology (in the range of 100 GB/s: 100GBASE-SR4, 100 m, or 100GBASE-LR4, up to 40 km). The equipment is wired via an SFP module.
For industrial networks, there are also fieldbuses such as PROFIBUS, PROFINET, CAN or ControlNet that allow the data transfer between sensors, actuators and PLCs.
Examples of networks according to applications:
For data acquisition: sensors require managed switches with dedicated ports.
For control systems: the control and command of PLCs require increasing redundancy in ring topology. To ensure this redundancy, you must use switches with a throughput of at least 100 Mbps.
Backbone: starting at 100 PLCs, you must use a main ring, called a backbone, which interconnects switches by optical fiber. The equipment is then distributed by 100 Mbps over ring wireline sub-networks on copper cables.
Video surveillance: starting at 20 cameras, you will need a dedicated network in Gigabit Ethernet. It can be advantageous to choose to power the cameras with a PoE (Power over Ethernet) network.
Is the number of ports important?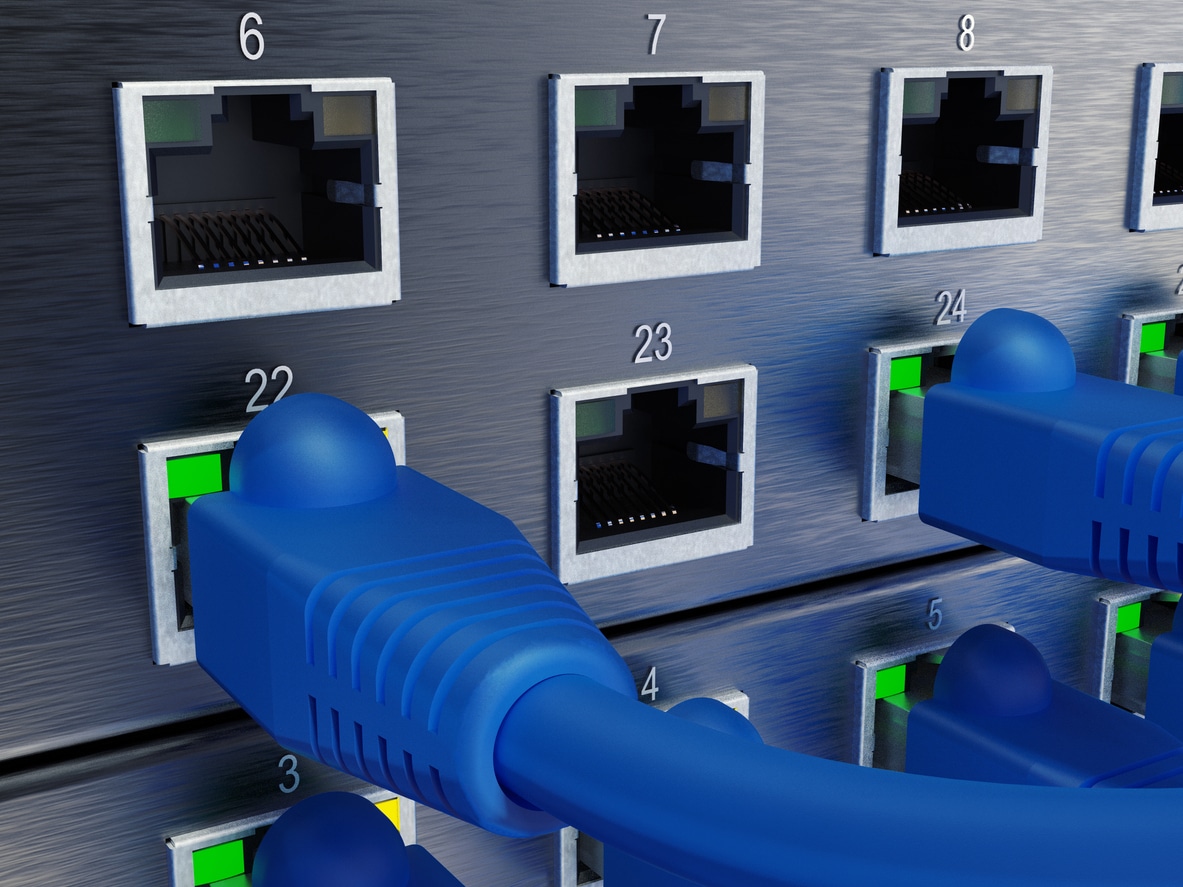 The number of ports available on your network switch is essential because it determines the number of devices that can be connected to it. A network switch can accommodate from 2 to 64 ports. In order to choose the switch that best suits your requirements, you will need to determine how many devices you are going to connect and whether this number is likely to change in the short to medium term.
Some network switches are equipped with a stack plug that allows switches to be connected to each other, thus increasing the number of available ports.
What other points are important to consider when choosing a network switch?
Network switches are integrated in casings designed to be installed either in electrical cabinets or in standard bays:
Ethernet switches for small networks are usually equipped with a DIN rail mounting system, which is standard for integrating different equipment into a normal or electrical cabinet.
In larger networks, switches are designed to be integrated into racks and in this case their size is indicated in 19-inch rack occupancy units in a cabinet (i.e. a switch occupies 1U, or the width of a 19-inch rack for a height of 1.75 inches). The 19-inch rack corresponds to standard dimensions (in Europe DIN 41494).

If you have few devices to connect to your network switch, you can leave it on a desk near the devices, but you must be careful with the noise level, as the more ports the switch has, the louder it will be.
What are the latest trends in network management?
In order to choose the right network switch, you must take into account the evolution of network management and the increasing number of connectable and connected devices:
Programmable Networks (Software Defined Networks or SDNs): This architecture improves network control and enables rapid response to changing business needs. This architecture requires managed switches because they are managed by the centralized SDN controller.
Internet of Things (IoT): the number of connected objects is changing rapidly and you will need to take this future evolution into account when sizing your network so that it does not quickly become obsolete.
You can also find layer 3 network switches on the market that act as routers with a larger number of ports.