Choosing the right concrete mixer
A concrete mixer is a machine that homogeneously mixes cement, aggregates such as sand or gravel, and water to form concrete. A concrete mixer uses a rotating drum to mix the components. For small jobs, mobile concrete mixers are often used to make the concrete on the construction site and give workers enough time to use it before it hardens.
View concrete mixers
How to choose a concrete mixer?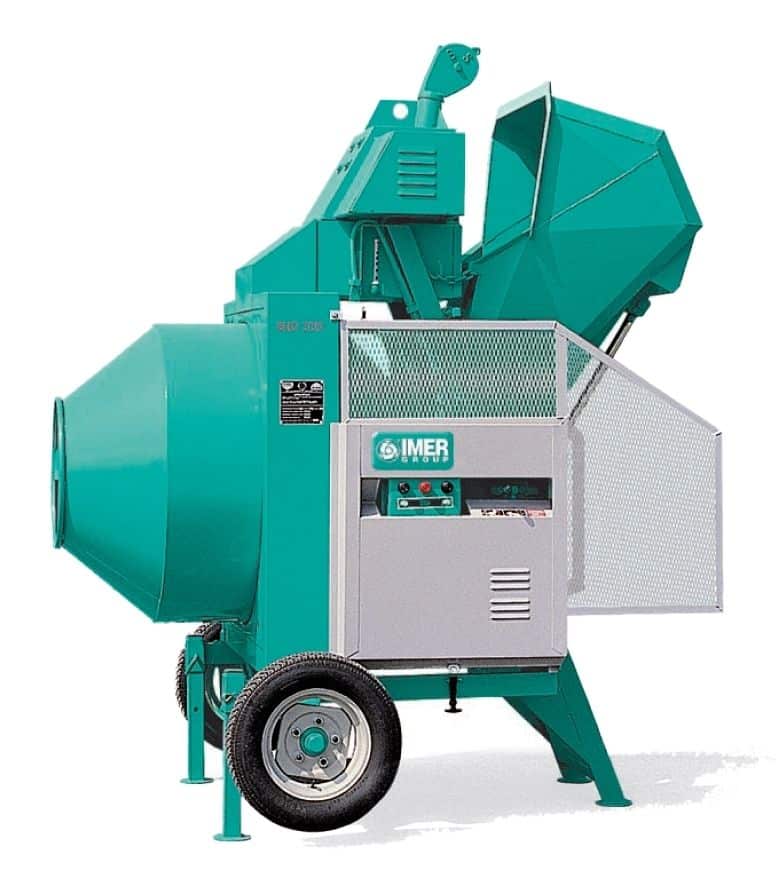 A concrete mixer is composed of a motor, a rotating tank, a dump wheel or tipping handle (on the side) that allows the tank to be tilted and a rigid frame. The tank is equipped with fixed helical blades that mix the materials to obtain a homogeneous mixture. The motor can be electric, combustion or, less frequently, hydraulic.
In order to choose the right concrete mixer for your job, you must first determine the volume of concrete you will need. It is important to know that a tank can be filled to a maximum of 80%. When a manufacturer talks about mixing volume, it is therefore 80% of the volume of the tank: don't confuse these two volumes.
In your selection criteria, you will also have to take into account the concrete mixer's frequency of use.
Occasional use (small worksites). If you need a concrete mixer for a single worksite, a 60-liter tank might be sufficient. Favor an electric concrete mixer for this purpose.
Frequent use (medium worksites). Here, the 120-liter concrete mixer is generally sufficient. Depending on the size of the job, you can increase the volume to 160 or 190 liters.

If you work on sites where access to electricity is guaranteed

, favor an electric concrete mixer.
Regular or intensive use (large worksites, professional worksites). If you need concrete non-stop, every day, you will have to opt for a larger tank, at least 250 liters (to be calculated according to your needs). For this purpose, use a model with a combustion engine to avoid problems related to power supply.
Why choose an electric concrete mixer?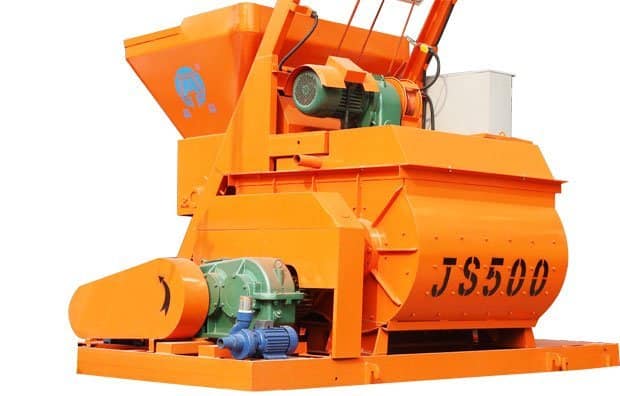 You can choose an electric concrete mixer for occasional or even frequent use on medium-sized worksites. They are often single-phase 220V for a power of 500 to 1,500 watts. For higher power, they are three-phase 380V.
Electric concrete mixers have many advantages:
Low costs: low selling price, virtually no maintenance, no consumables (oil or gasoline).
Regardless of the outside temperature, they start immediately.
Thanks to their compact size, they are easy to use indoors.
They are lighter and more maneuverable than concrete mixers with combustion engines.
They also have some disadvantages:
You need to have an on-site power supply.
Not suitable for intensive use.
Why choose a concrete mixer with a combustion engine?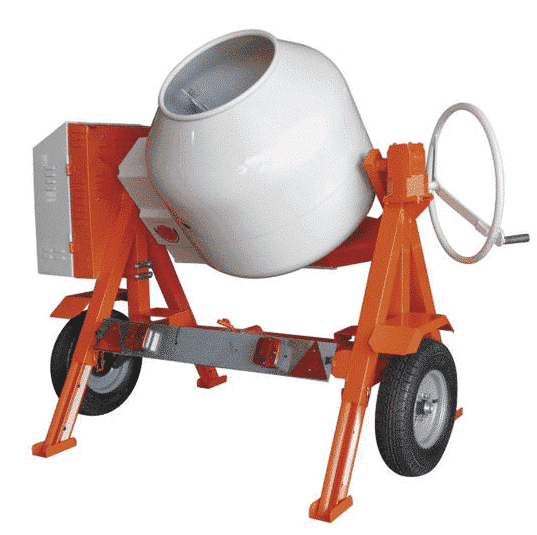 A concrete mixer with a combustion engine is essential for large construction sites where it is going to be used almost every day. They are noisier, heavier and more cumbersome than electric concrete mixers, but they have enough advantages to outweigh their disadvantages:
They are autonomous: they run on gasoline or diesel, so they don't depend on a supply of electricity.
Better suited for large construction sites: combustion engines are more powerful and more robust than electric motors.
Longer service life.
Easy to move: generally equipped with inflatable road-towable tires.
Disadvantages:
Weight.
Noise level.
Sometimes difficult to start.
What are the alternatives to using a concrete mixer?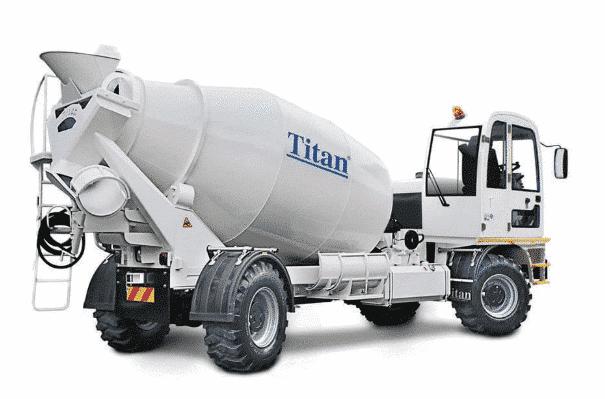 There are other alternatives to buying or renting a concrete mixer. For example, you can have ready-made concrete delivered to you.
The mixer truck:
The mixer truck, is a truck specialized in the transportation of fresh concrete. The rotating tank containing the concrete is slightly inclined. The rotation, generally transmitted by a hydraulic motor-pump unit, allows the material to be continuously mixed and prevents the concrete from being segregated during transportation. Mixing trucks can transport from 4 to 10m3  of concrete.
They are available in the following sizes:
4×2 or 4×4 (max. 19 t) capable of transporting 4m3  of concrete (about 9.2 t)
6×4 (max. 26 t) capable of transporting 5.5m3  of concrete (about 13.2 t)
8×4 (32 t maxi) capable of transporting 7.5m3  of concrete (about 18 t)
2 axle semi-trailer truck (38 t maxi) capable of transporting 10m3  of concrete (about 24 t)
Be careful to factor in the time for deliveries as continuous mixing does not prevent the concrete from setting. In order to keep all of its qualities, the concrete must not remain in the truck for too long (generally two hours maximum).
Mixer truck with conveyor belt:
This type of truck operates on the same principle as the conventional mixer truck, but instead of pouring the concrete when it comes out, it has a handling device that allows it to transport the concrete to the pouring site. They are particularly suitable for sites that are hard to reach, multi-story sites and even deep sites. The casting arm can cover a distance of 10 to 16m and a height of 8m.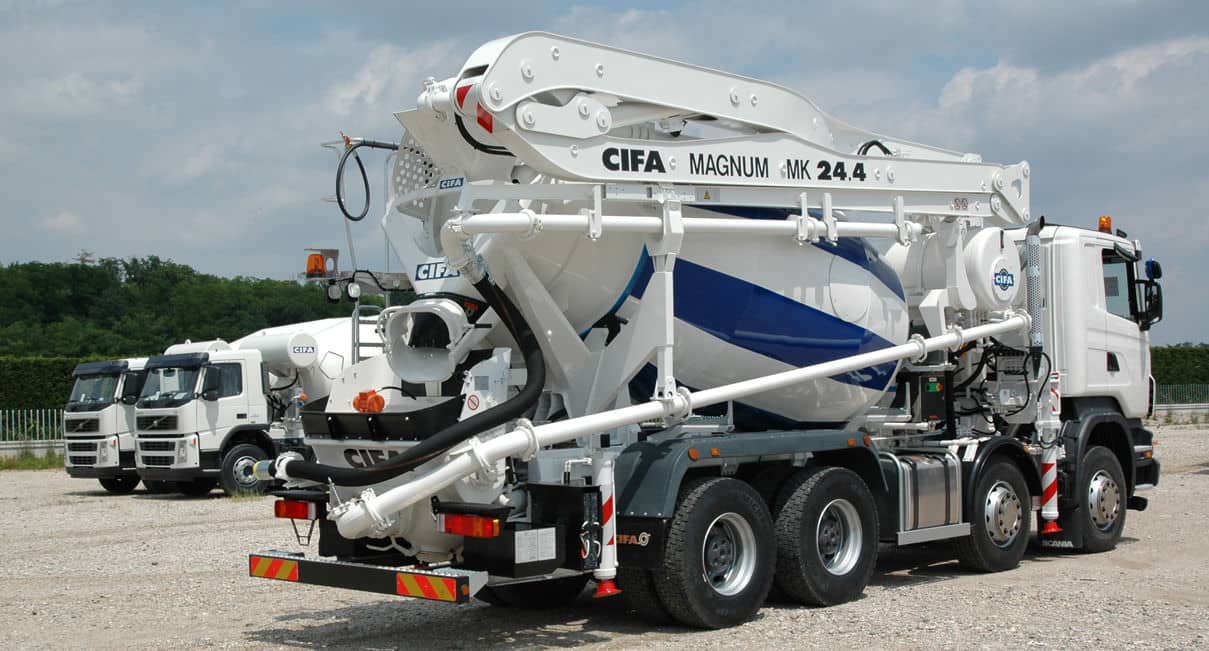 Mixer truck with pump
A mixer truck with pump is also a handling vehicle for transporting concrete to remote or hard-to-reach areas. Thanks to its handling device, it can deliver concrete at distances of more than 150 meters while delivering about 20 to 150m3 per hour.
The different pumping techniques include:
The piston pump: a system of pistons and cylinders which sucks up concrete, and another system of pistons and cylinders that releases it.
The impeller pump: the compression of a flexible conduit, powered by a rotating part, activates the pumping.
Be careful with the technique used because some concretes can only be pumped by one system or the other.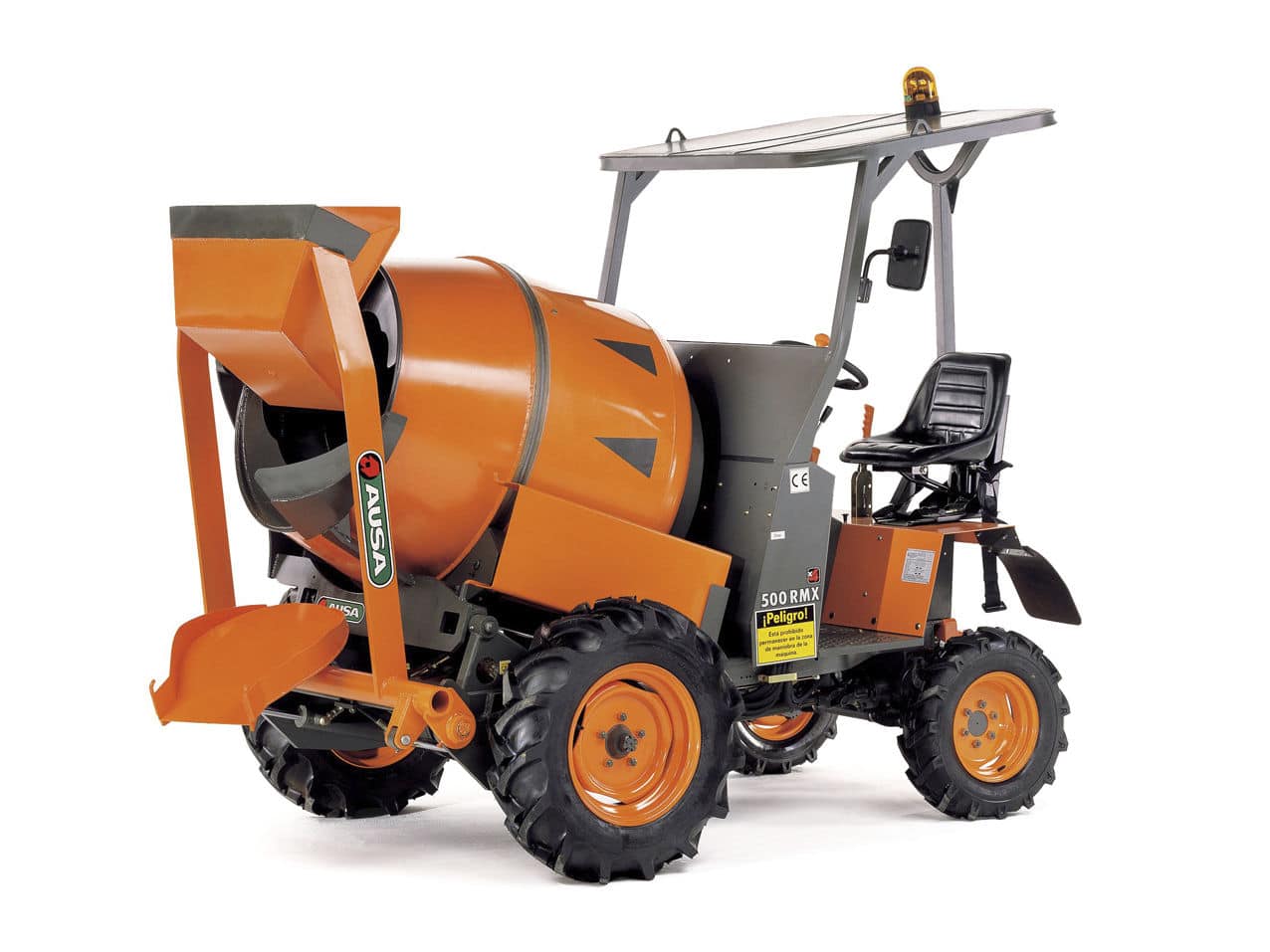 Self-loading concrete mixer
Unlike the mixer truck, which transports concrete that's been previously mixed in the factory, the self-loading concrete mixer only mixes the concrete once it arrives at the delivery site. This prevents dry concrete and provides a better quality material. The self-loading concrete mixer is both more ecological and more economical as it can produce precisely the amount of concrete needed for each project. This prevents the waste of expensive and environmentally harmful concrete.