Choosing the right machine vision camera
Cameras are used to capture images of objects or locations being examined for a number of imaging applications such as machine vision or machine automation. Cameras are imaging components that interface with imaging lenses. They contain sensors designed to image the light focused by the imaging lenses. Cameras are built with many image sensor formats, such as CCD or CMOS sensors suitable for almost any camera imaging application. They are widely used in production control, object flow management and microscopy. This guide does not treat monitoring cameras, which will be treated separately.
View machine vision cameras
How to choose a machine vision camera?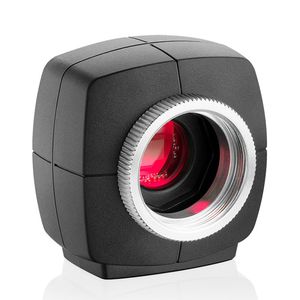 When choosing a machine vision camera, there are several important factors to take into account. First it is important to make sure that the camera you've chosen is suitable for the application you are looking for. A camera for production control won't have the same characteristics as a camera for robot guidance.
Next it is important to take into account the inspection spectrum necessary for your application: will you need infrared or ultraviolet vision for example?
You will also need to choose between different sensors: CCD, CMOS, microbolometer, FPA, etc.
Lastly, it is essential to choose the right communication interface from amongst the many interfaces out there: USB 2.0, USB 3.0, GigE, Camera Link, PoE and VGA.
The choice of each of these features will depend on both your application and your budget.
Points to check when choosing a machine vision camera
applications
inspection spectrum
image sensor
communication interface
What is the aim of your inspection?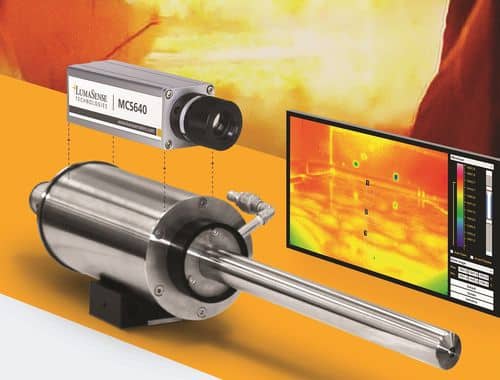 Your machine vision camera must be adapted for your intended use. This means your priority must be to clearly define the goal of your inspection and which type of radiation will best allow you to extract the information you are looking for. This radiation will determine the necessary inspection spectrum for your camera's observation. For example, if your camera is used for process supervision, a fairly wide inspection spectrum in the visible sphere will probably be necessary, while a furnace camera will require a narrower spectrum in the infrared.
There are several types of cameras with different observation spectra: cameras that are only sensitive to visible elements, infrared (allowing thermal vision), X-rays (allowing the crossing of soft matter, therefore very useful for medical imaging), ultraviolet (also widely used in medical imaging) and multi-spectral cameras (they have the widest inspection spectrum since they include all other types of spectra).
Since the object or process to be observed is in an industrial environment, it is necessary to take into account the integration of the camera (and the protection of fragile elements). As such, a camera for furnaces will be integrated in a protective casing that can resist high temperatures.
Points to check depending on the aim of your inspection
the most appropriate radiation
the camera's inspection spectrum
integration of the camera in the industrial environment
communication interface
Which sensor should you use for your camera?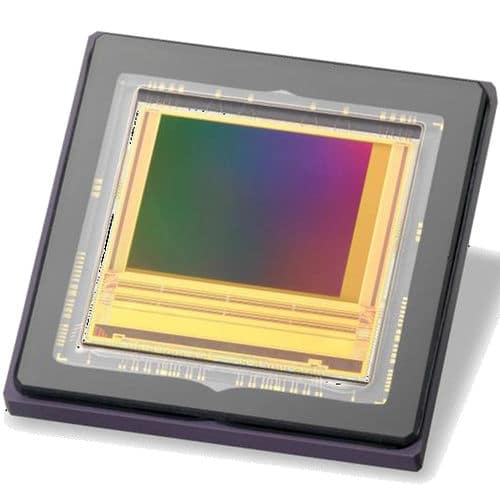 There are four types of image sensors: CCD sensors, CMOS sensors, microbolometers and Focal Plane Array (FPA) sensors. To find the right sensor, it is important to define ahead of time the inspection spectrum you will need. For example, a CCD sensor cannot use infrared imaging. Your choice will also be determined by the quality you are looking for and the budget you have.
types of image sensors:
CCD
CMOS
FPA
microbolometer
When should you choose a CCD sensor?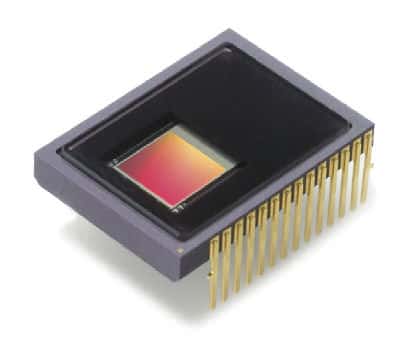 CCD sensors are inexpensive. They have the advantage of being very good price/quality value. Nevertheless, their inspection spectrum is only sensitive to visible elements. Additionally, they have the disadvantage of being very sensitive to glare and having a number of parasitic electrons that increase sharply with temperature. It is thus necessary to cool down the CCD sensors to avoid thermal noise. It should be noted that modern CCD sensors have more advanced technology that makes them higher quality, close to that of a CMOS sensor.
CCD sensors are widely used in scanners, for example.
advantages/disadvantages:
+++ price/quality value
– – – only sensitive to visible elements
– – – glare sensitive
– – – noise sensitive with temperature
When should you choose a CMOS sensor?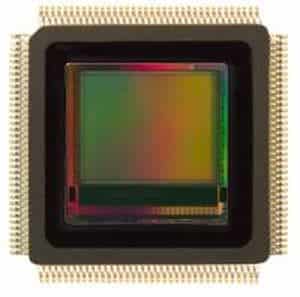 CMOS sensors are more expensive than CCD sensors and offer several advantages. Firstly, they are superior quality compared to CCD sensors (although the technology of the latest generation of CCD sensors brings them closer to CMOS sensors). What's more, they are adapted to low-light vision. A low light level will therefore not pose any problem. They also have a higher reading speed than most CCD sensors and are energy-efficient.
CMOS sensors are in competition with CCD sensors and are used for the same applications (scanners, laboratories, packaging line monitoring, etc.).
advantages/disadvantages:
+++ superior quality
+++ infrared sensitivity
+++ glare resistance
+++ reading speed
+++ energy efficient
– – –  expensive
When should you choose a microbolometer sensor?
Microbolometer sensors are only used for thermal cameras and use mainly infrared radiation. Microbolometer cameras are lightweight and energy efficient and allow for extremely fast output communication. That said, they are very expensive. Additionally, they are less sensitive than cooled temperature sensors as, like with CCD sensors, the number of parasitic electrons increases with temperature. This can cause resolution problems. It should be noted however that the current technology tends to solve these problems making microbolometer sensors more efficient.
Thanks to their light weight, small size and low power use, microbolometer sensors can be mounted on construction helmets or portable devices.
advantages
reading speed
energy efficient
light
DISADVANTAGES
expensive
 infrared sensitivity only
sensitive to thermal noise
When should you choose a FPA sensor?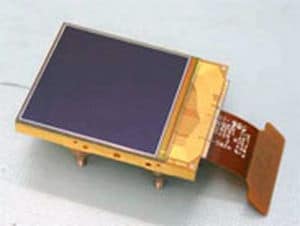 The main advantage of FPA sensors is their very high sensitivity and exceptional image quality. However, the image resolution is not very high (generally 320 x 240 pixels). These image sensors are very large and expensive and are used in both weapon guidance and inspection cameras, as well as in space and medical imaging.
advantages/disadvantages:
+++ very high sensitivity
+++ exceptional image quality
– – –  very expensive
– – – weak image resolution
– – – large sensor size
Which communication interface should you use?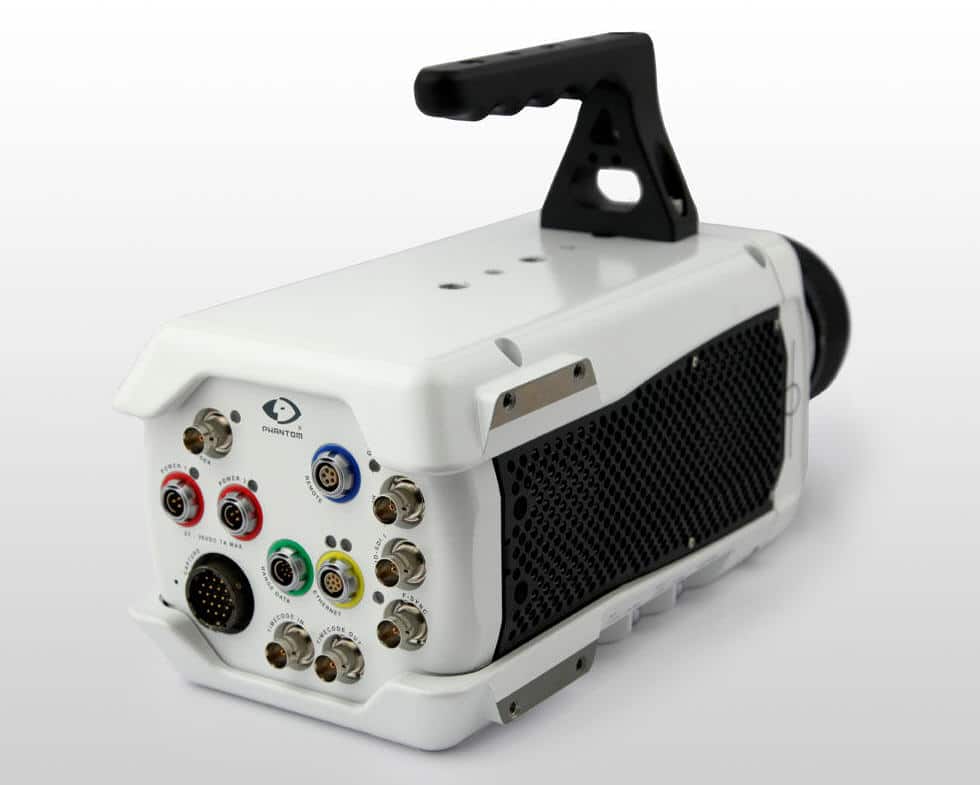 After determining the type of sensor you require, you will need to choose the communication interface you are going to use. These are the main communication interfaces available from camera manufacturers. Each one has advantages and disadvantages:
– USB 2.0: this inexpensive system needs to be connected to the camera by a cable (can go up to 5 meters). With a theoretical throughput of up to 480 Mbps, this system may nevertheless be unreliable for data transmission. It has now been overtaken by USB 3.0
– USB 3.0: this interface has similar features to USB 2.0, but has a higher throughput and more reliable transmission.
– CameraLink: this communication interface has a very high throughput (up to 6 Gbits/s), and is perfect for high resolutions. It is very expensive however. The cable length can reach 10 meters.
– GigE (or Giga Ethernet): this very inexpensive communication interface has a throughput of up to 1 Gbit/s and is advantageous if you need long cable lengths (it can reach 100 meters).
– PoE (or Power Over Ethernet): it can have a throughput of up to 1 Gbit/s, and its main advantage is that it can supply power to the camera as data communication takes place.
– VGA (Video Graphic Array): VGA cards take into account resolutions of 640×480. They can convey up to 256 colors. This interface is starting to disappear.
available communication interfaces:
USB 2 & 3
CameraLink
GigE
PoE
VGA
FireWire
PAL/NTSC
How many megapixels do you really need?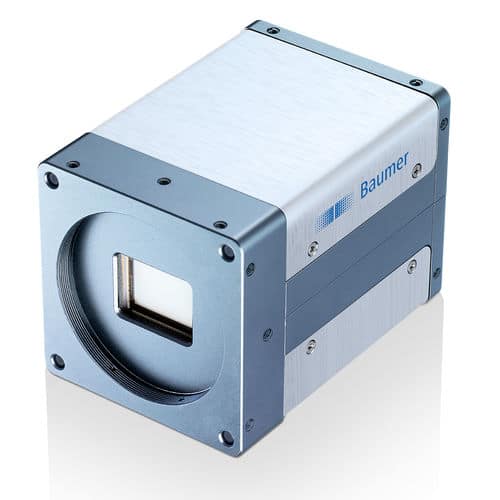 The more sensitive the camera, the clearer the images will be, even with weak light. The quality of the image therefore depends on the camera's sensitivity and the image resolution. The higher the number of megapixels, the sharper and more precise the image will be. If you want to observe precise details, we therefore advise you to use a camera with a resolution above 1 megapixel. It should also be noted that the H.264 format is extremely powerful.
Also note that megapixel cameras have become very common and affordable nowadays.
What are the main applications of a camera for machine vision?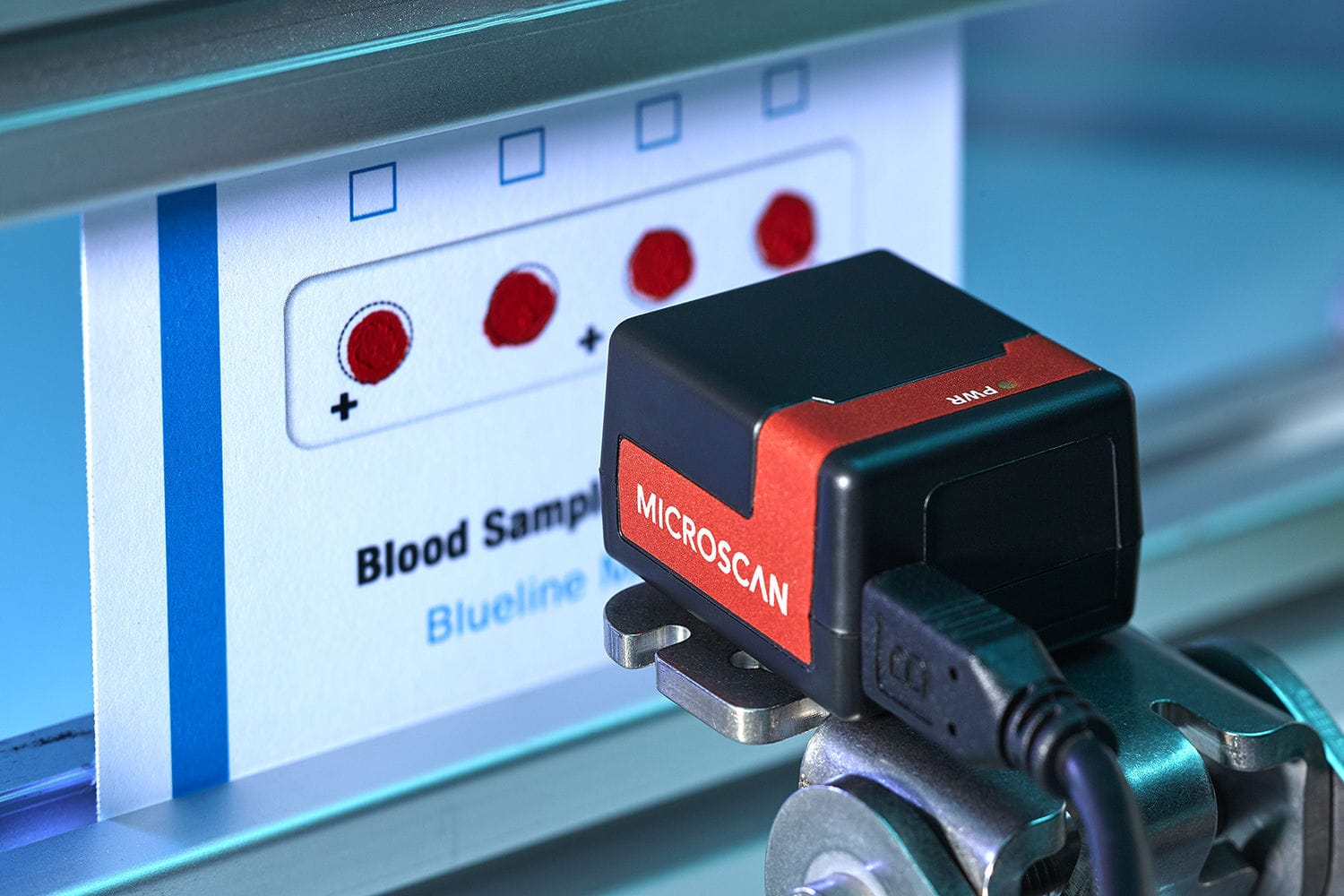 Machine vision cameras can be used for a wide variety of applications. They can be used for production control, object flow management, surface inspection (for this purpose, the camera must be mounted on a microscope), electronic component manufacturing or robot guidance. There is a suitable camera for each application.
For example, to manage the production flow of a packaging line, you only need a CCD camera, which is a low-cost investment. In this case, the main focus is on the camera scanning speed in frames per second (fps) and its resolution (in megapixels). Note that applications that CCD cameras are appropriate for can also be managed by CMOS cameras but they are more expensive.
The very high accuracy of FPA cameras allows them to be used in both guidance and medical imaging.
If you need a camera to identify and measure heat flow, we recommend microbolometer cameras.
What level of performance can you achieve with a camera?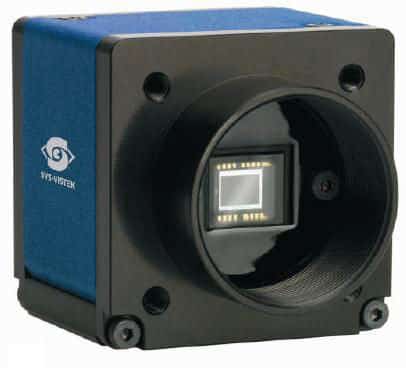 In a camera, electronics have less influence on performance than the sensor itself.
Some cameras can have good image resolution with weak sensitivity, with almost no thermal noise due to the sensor's weak sensitivity.
Other cameras, on the other hand, will require high sensitivity to produce a visible image in low light conditions, without the resolution being exceptional, but with a high risk of thermal noise due to high sensor sensitivity.
Finally, do not forget the importance of the lenses attached to the camera. Their optical quality, maximum aperture and focal length directly affect the quality of the images formed on the sensor.
The price and performance of a camera are strongly linked.
Factors that influence a camera's performance
sensitivity (in ISO)
resolution (in pixels)
speed (in frames per second)
thermal noise (from the sensor)
space requirement
What is a smart camera?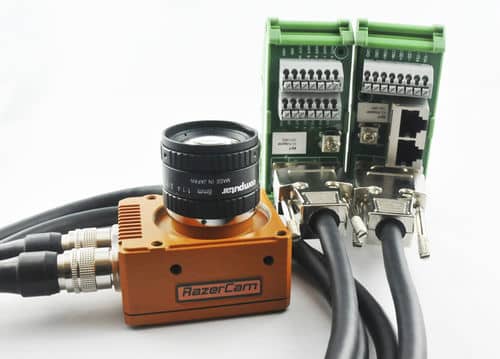 A smart camera is a camera that can take and interpret images.
These cameras offer several advantages.
First of all, they are autonomous in image processing and interpretation (it is not necessary to connect them to a computer).
Additionally, after interpreting images they can control automatic operations and intervene in the process they are monitoring.
Lastly, these cameras are very compact and therefore do not take up much space. They are easy to install on production lines.
Advantages of a smart camera:
autonomous (embedded intelligence)
integrated image processing
integrated image interpretation
digital control of automatic operations
reduced space requirement
simplified installation
Trends
First of all, image sensors have made great strides in recent years. The trend is to have more and more pixels for better resolution but also to have greater sensitivity (backlit image sensors). With regard to CCD technology, sensors are becoming more and more efficient and now share more and more features with CMOS technology sensors. This results in better image resolution, but also a limitation of thermal noise at low light levels.
In terms of communication interfaces, they are transferring data increasingly quickly. This makes it possible to share high-resolution images over long distances without losing quality, while remaining in an industrial environment. The trend for the coming years will be to transfer data wirelessly, namely using Wifi.
Lastly, almost all manufacturers offer smart cameras in their catalogs. They are able to process images, interpret them and control automatic operations directly. This is a strong current trend, giving more and more autonomy and intelligence to cameras.
The latest camera trends
high resolution
high sensitivity
faster communication
embedded intelligence
autonomy
miniaturization