Choosing the right industrial door
An industrial door separates two zones by offering acoustic and thermal insulation. It allows for the easy circulation of goods, machinery and personnel within buildings. As a key element company's logistics, an industrial door must be selected according to your required uses and working conditions. This guide will help you choose from the different configurations available on the market.
View industrial doors
How to choose a industrial door?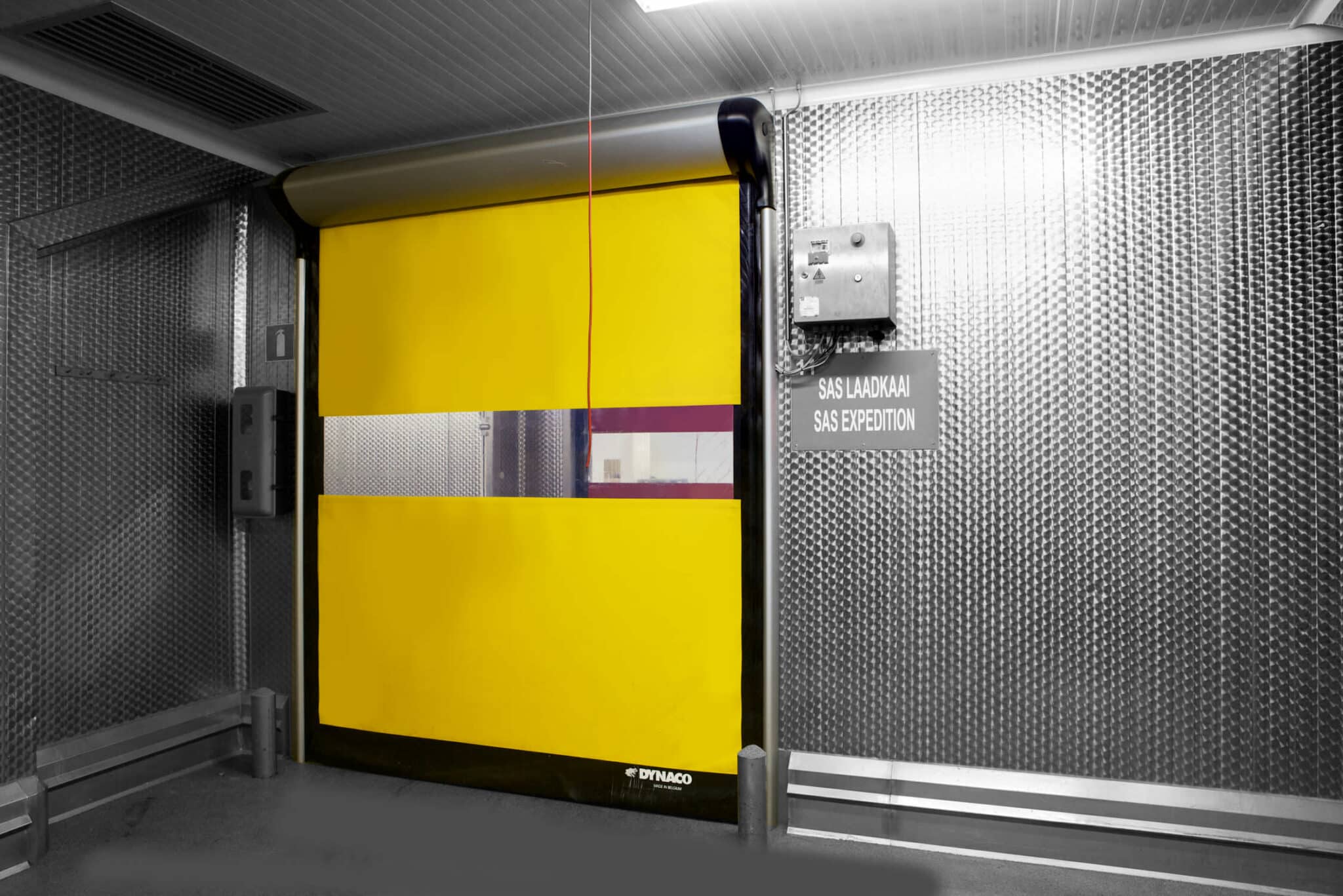 In order to choose the right industrial door, you must first know whether it will be used indoor or at the exterior, then you will need to know the working environment it will be placed in and to characterize the degree of security required. This will help determine what material the door should be made of. Steel is the most common metal used to manufacture doors used in high crime areas. Vinyl and aluminum are other durable materials used in door manufacturing.
Other selection criteria:
How it opens: doors can open in several different ways, such as sliding upwards or swing doors opening to the right or the left. Other doors open outwards or inwards. Considering how a door opens is essential to ensuring that operations run smoothly in your facility. The space available to install the door is an important constraint to consider.
The type of control: you can choose between manual or remote-controlled doors.
The size of the door: it must be practical depending on its intended application. The use of doors over 10 meters wide is not recommended as these doors are more difficult to open.
Some doors add aesthetic value to a building. Wood, tempered glass and Lexan are the materials commonly used for more sophisticated doors.
Why choose a sectional industrial door?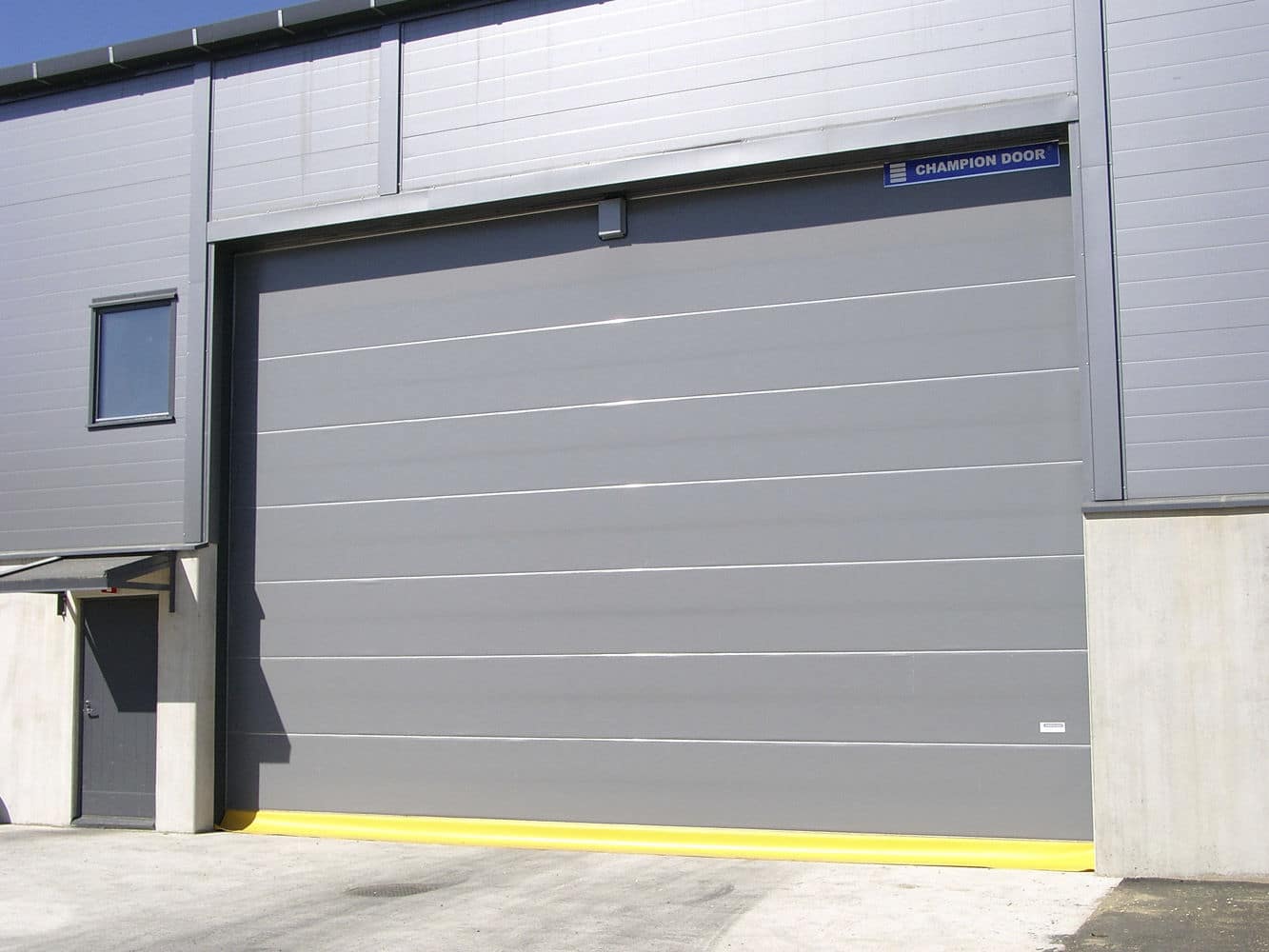 A sectional industrial door can be useful in a limited space as this type of door only uses the upper part of the room to operate.
This type of door is large, made of insulated panels and installed outdoors. The panels are hinged and lift up to clear the circulation space. Depending on the space available above the door, the panels will be raised vertically, with a certain inclination or sliding along the ceiling.
This type of door can be operated manually or by means of a motorized system. They are very energy efficient. Sectional doors are heavy duty and when they are thick (80 mm) they generally ensure that warehouses, buildings or even more sensitive areas in terms of insulation are closed.
CHARACTERISTICS:
for limited spaces
for exterior use
excellent energy efficiency
heavy duty
Why choose a roll-up industrial door?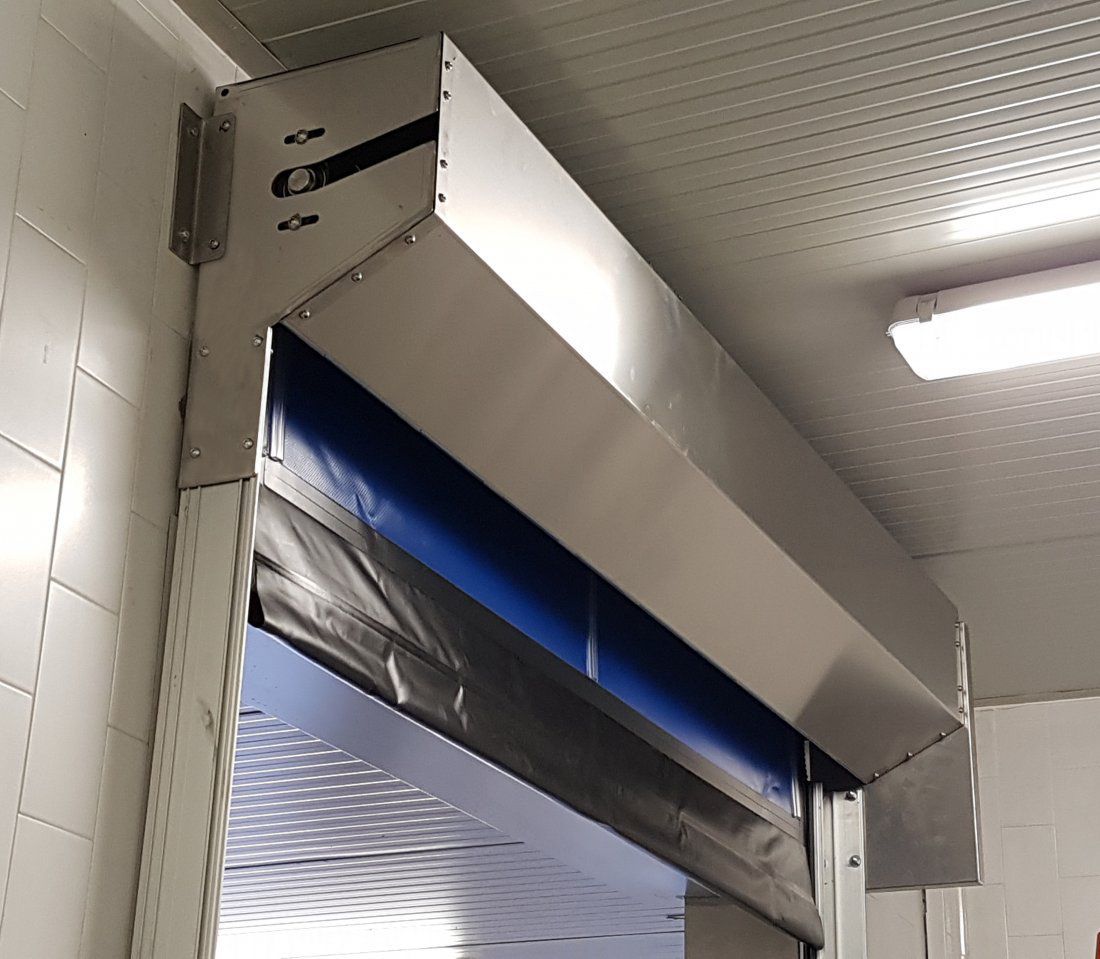 Industrial roll-up doors are high-speed flexible doors. These flexible but rigid doors offer great lightness and a high opening speed. They are adapted for crossing areas isolated from each other (sound or thermal insulation) and requiring numerous opening / closing movements due to frequent passages. They create an effective separation between production areas and storage areas. However, soft doors do not protect against trespassing.
The high opening and closing speed reduces heat loss, ensuring energy savings. These doors also reduce sound dispersion and protect against dust from nearby work areas.
Lacquered steel or stainless steel doors are intended for installation in protected indoor environments (supermarkets, the food industry, etc.). These doors are generally made of metal and used in industry, but they can also be used to close boathouses or aircraft hangars. They have the advantage of being very easy to clean. Their decontamination is facilitated by the simple and smooth shapes of their metal structure without any indentations.
Other advantages to choosing an industrial roll-up door:
Unlimited number of daily openings
Easy installation
Low-cost maintenance
CHARACTERISTICS:
for high traffic areas
quick opening and closing
easy cleaning and installation
Why choose a flexible strip door?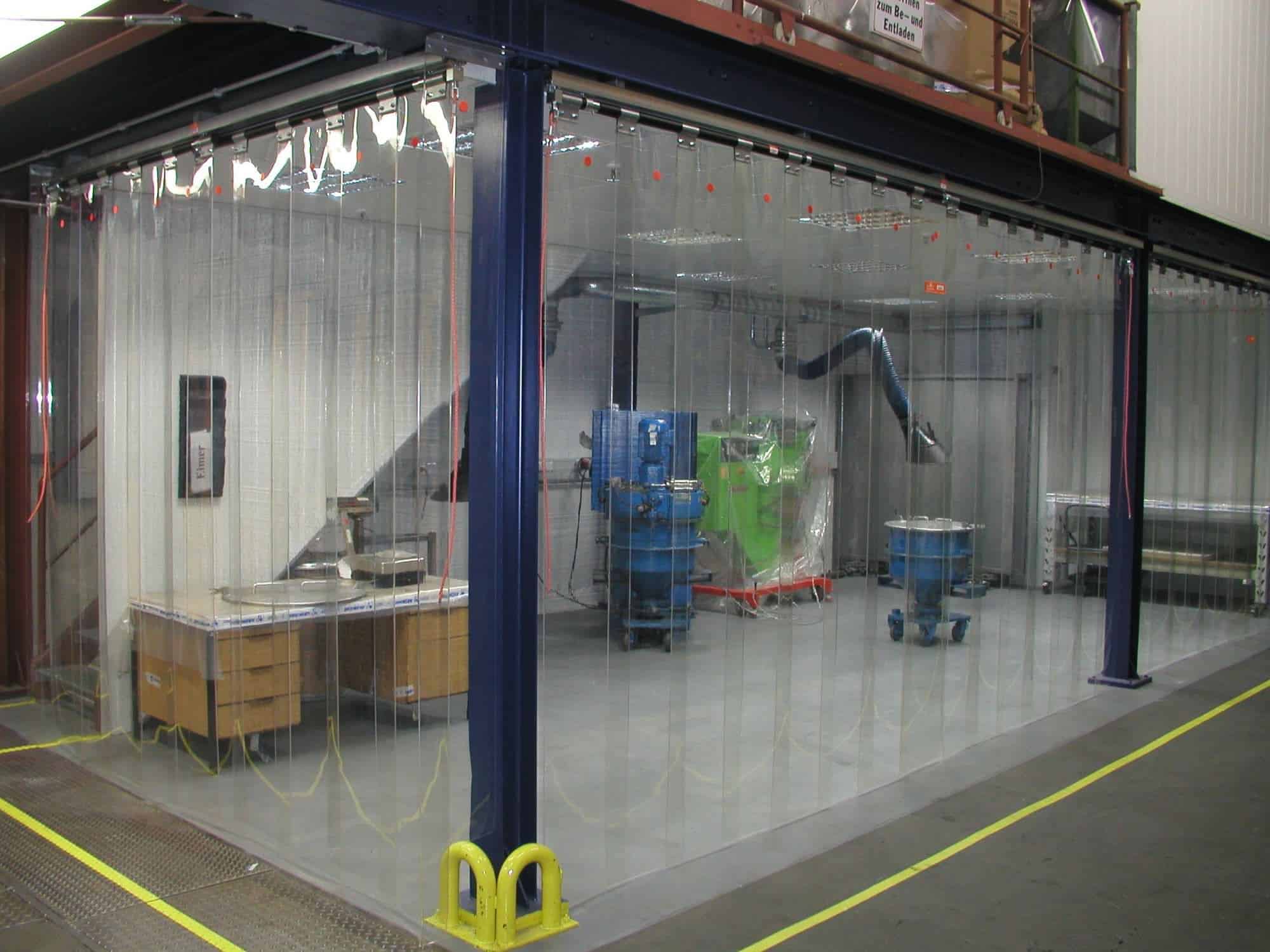 If you need a relative separation between two areas with maximum visibility, you can opt for a flexible strip door, also called a strip curtain.
The strip curtain is available in different versions according to your needs: you can adjust the type of strips for the type of coverage required. The strips create a seal by overlapping. The larger the overlap, the greater the curtain's seal, but the more difficult it is to pass through.
These doors are made of transparent strips that close an opening while letting light through. They are suitable for the food industry and clean rooms.
CHARACTERISTICS:
closes the passage while letting light through
Why choose an overhead door?
Industrial overhead doors are made of galvanized steel. They are suitable for spacious rooms because they are generally large in size. They can be installed with springs or counterweights. The second solution is recommended because these doors are generally used extensively and counterweights, in addition to being a durable and reliable system, allow for a smooth and silent opening and closing. The counterweight is protected by a galvanized sheet metal box that adds to the door's aesthetics. Industrial overhead doors can be used in combination with pedestrian doors.
The advantage of overhead doors is that they require practically no maintenance, but they take up a lot of space due to their size.
CHARACTERISTICS:
large size
no maintenance required
thermal efficiency
Manual or automatic control?
There are two types of controls for opening and closing an industrial door: manual and automatic.
A manual control system usually includes traction cables or chain hoists. Automatic doors have an integrated electrical mechanism. Automatic control is carried out electrically using various systems: pull switch, key switch, code or key pad, radar, remote control, timer, magnetic card, etc. High-security automatic doors for collective use, using the various systems mentioned above, allow free or restricted access to secure areas.
The automatic opening of industrial doors can also be performed via a transmitter and receiver. This radio control system consists of a wireless transmitter and receiver to control the automatic opening and closing of flexible, sectional or metal curtain high-speed doors. There are several advantages: no cable installation, adaptation to all control boxes and cabinets, battery-free operation and it's maintenance-free.
Self-repairing door or not?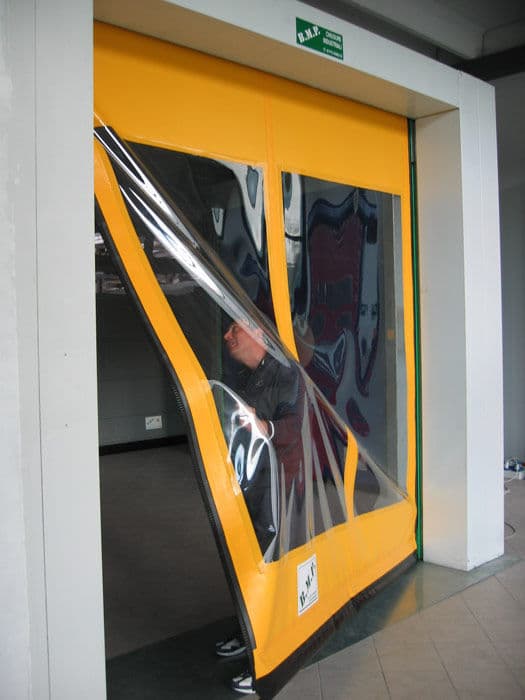 This option is particularly suitable for fast flexible doors and roll-up doors. This function allows, in the event of an impact or collision, to eject the door from its slides. The self-repairing system works regardless of the direction of the collision, whether entering or leaving the area. It does not reduce the passage width and has the advantage of limiting the maintenance budget as well as reducing downtime and intervention costs.
What other characteristics are important to consider?